Chipping Ongar is an ancient market town which first appears in the will of Thurstan son of Wine in 1045.   At the time of the Norman Conquest it came into the hands of Eustace, count of Boulogne and it was about this time, 1068, that building of the Church began and it is thought to have been completed in 1076. Signs of Norman construction can be seen in the chancel roof, the lancet windows in the north wall of the nave, and the flint rubble walls, where traces of putlog holes, made to receive the ends of wooden poles used to form scaffolding, are apparent.  
Although it was believed that the thin red bricks in the walls were re-used Roman, these have now been shown scientifically to have been manufactured between 947 and 1134 AD, with a mean date of 1070 AD and most likely locally produced, although it has been suggested that they may have been imported from France or Germany. In the 15th century the weather-boarded bell turret and spire were added while in the nineteenth century the south aisle was constructed to enlarge the church.
There is strong evidence that Ingelric, Earl of Essex, who held the Manor of Ongar between 1068 and 1075, commissioned the church in Ongar. He was a high-status priest of probable Germanic origin, under both Edward the Confessor and William I. Ingelric became an important figure in Edward the Confessor's court, and founded the collegiate church of St Martin-le-Grand in London, perhaps as early as 1056. He was to rise to even greater prominence after the Norman Conquest and his successors, the Counts of Boulogne, were patrons of St Martin-le-Grand which suggests why St Martin, a favourite saint in Christian Britain, was adopted for the church in Ongar.
For lots more information on the church and St Martin, please click on the following links: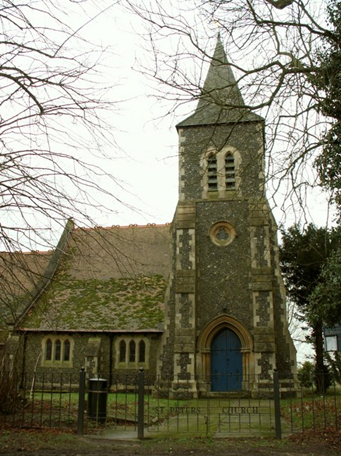 There have been three churches on the site in Shelley, all dedicated to Saint Peter. The original was founded around 1328 and consisted of a nave and chancel of stone with a wooden turret. It fell into disrepair and was declared unsafe around 1800 and demolished in 1810, when a second building was erected using the same foundations.
However, it was of such poor quality that by 1886 it was showing signs of deterioration.  In 1888 a faculty was obtained for building yet another church, the one that we see today.
For lots more information on the church please click on the links below: